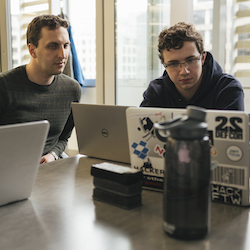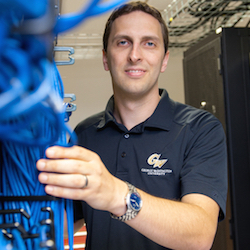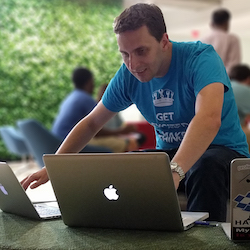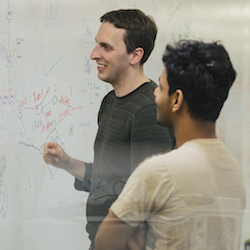 Timothy W. Wood
Associate Professor
timwood@gwu.edu
SEH Room 4580
202 994-1918
I'm on:

---
I am an Associate Professor of Computer Science at George Washington University and one of the directors of the GW Cloud Systems Lab. I teach and do research in the general areas of operating systems and distributed systems. I am particularly interested in how new virtualization technologies can provide application agnostic tools that improve performance, efficiency, and reliability in cloud computing data centers and software-based networks. My research focuses on practical, systems-level challenges created by emerging technologies in these areas. I received my Ph.D. in CS from UMass Amherst in 2011 and my B.S. in ECE from Rutgers University in 2005.
---
Recent Courses
---
News
Some recent events:
1/18/2022: This spring we welcomed the first group of students to our Designing Trustworthy AI Systems NRT fellowship, sponsored by the NSF. I'm helping lead the interdisciplinary effort on smart and connected mobility.
11/11/2021: We recently presented papers at SOCC 21 on our Mu Serverless platform that comprehensively tackles load balancing, autoscaling, and placement for Edge environments, and at NFV-SDN on using SmartNICs for load balancing across NF middleboxes.
11/5/2021: Our research lab took a break and solved an escape room in a box... nobody was turned into a werewolf!
9/1/2021: Two of my former PhD students, Guyue Liu and Wei Zhang, will be staring faculty positions this fall! Wei will be at UConn and Guyue will join NYU Shanghai. Congrats ladies!
8/1/2021: I am excited to start a new project on using SDN and NFV to provide value based access control funded by the NSA's NCAE-C program. The project is led by (GW alum!) Gedare Bloom from UCCS.
4/21/2021: Our work on building an "opportunistic" cache for serverless environments was presented at EuroSys!
9/1/2020: In summer 2020, I worked with a great set of undergraduate and graduate students!
8/20/2020: I helped organize the first IEEE International Conference on Autonomic Computing and Self-Organizing Systems (ACSOS 2020) as the PC Co-Chair. It was a great event that merged decades of history from the ICAC and SASO communities into a single joint conference.
7/17/2020: Our work on EdgeOS, a platform for Fine-Grained Isolation for Scalable, Dynamic, Multi-tenant Edge Clouds was presented at Usenix ATC 2020. EdgeOS can start new applications 170X faster than Linux processes (and 50,000X faster than containers).
5/18/2020: Congratulations to graduates Michael Trotter (PhD), Yuxin Ren (PhD), Dennis Afanasev (BS) and Pat Cody (BS)!
4/8/2020: Our paper on model-based NFV load balancing will appear at HotEdge 2020.
Click for older news...
---
Research Students
I have been fortunate to work with many excellent students!
Current Ph.D. students:
Past Ph.D. students:
The undergrad and MS students I've worked with have also gone on to great things: Kevin Deems (BS '21, Vanguard), Pat Cody (BS '20, Facebook), Dennis Afanasev (BS '20, Stateless), Mykola Yurchenko (BS '19, Facebook), Riley Kennedy (BS '19, Apple), Aaron Coplan (BS '19, Facebook), Kebo Duan (MS '19, Google), Neel Shah (BS '17, VMware), Phil Lopreiato (BS '17, Facebook), Harpreet Singh (MS '17, Stony Brook), Shaohua Duan (MS '16, Rutgers), Chenghu He (MS '16, EMC), Lucas Chaufournier (BS '15, UMass), Rian Shambaugh (BS '15, UMass).
MS Advising
If I am listed as your MS advisor, I can help you plan your degree. However, before sending me email you should check: